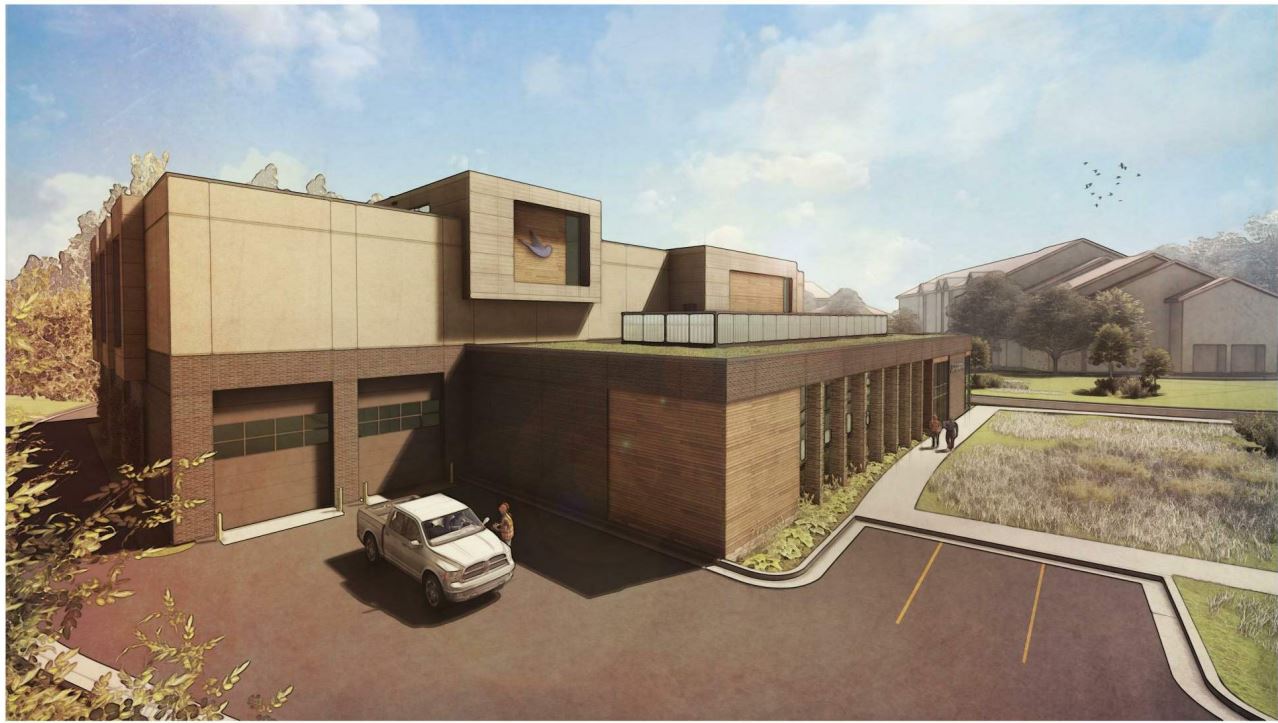 About 10 years ago my family launched one of the many joys of home ownership - a kitchen remodel.
For the most part this was a pretty smooth process, with only a couple of surprises…an extra $1250 to bring the previous owners DIY plumbing job up to code? Sure! A previously unknown vacation for the contractor? Why not?
One of the things that wasn't a surprise - a new water heater and water softener. As all of us in Robbinsdale know, the water from our wells is about as hard as municipal water can be. The installers for our water heater said the old heater was about twice as heavy as the new one, with all the hard water scale in it. And our new water softener made us wonder how we ever got along without one the first ten years we lived in Robbinsdale.
New Water Treatment Facility
The city has had a new water treatment plan on our capital improvement plan for at least ten years.
Our existing water system is aging, and contains elements that are undersized for current and future demands. There are also low pressure concerns in the south part of town.
Water in the system moves from ground storage tanks to water towers located downtown and near North Memorial. There are times in the summer when pumps moving water up to the towers are running constantly to keep up with demand in the system.
The plan includes larger capacity water towers to help take pressure off the pumps, and stabilize the "bounces" in demand.
The City Engineer and Finance Director have been studying the details of the plan, and how we will pay for all of this. It has been discussed at our yearly planning meetings for several years. There have been studies done to ensure our water utility rates are set correctly, and adjustments made to help to finance the plan. There have been several open houses and at least two locations considered and studied.
In that time the comment heard most often is "will it fix our hard water?" There have been hundreds of questions about hard water in Robbinsdale. Why don't we buy water from Minneapolis? Why can't we soften it?
In the end an overwhelming wish for municipal soft water appeared in the feedback during the open houses and comment periods, and the Council has decided to move forward with a new plant that includes water softening.
Soft Water in Robbinsdale!
Really! Not a joke. A new water treatment plant is being built and it will include softened water for all of Robbinsdale.
We will use lime to soften our water, similar to the process Minneapolis uses. Using lime is much better than the salt used in home water softeners for several reasons. One of the biggest advantages is keeping salt out of the water system, which eventually makes its way to the Mississippi River. Salt is an increasing environmental problem in natural water systems, and the home softening process discharges salt as part of the process.
The lime process does not have this same problem and, in fact, the 'spent' lime is captured and sold to farms as a soil additive, so there is very little waste in the process.
Why Not Minneapolis Water?
So why not just tap into the Minneapolis water pipe that runs through town?
Well, as one reminder: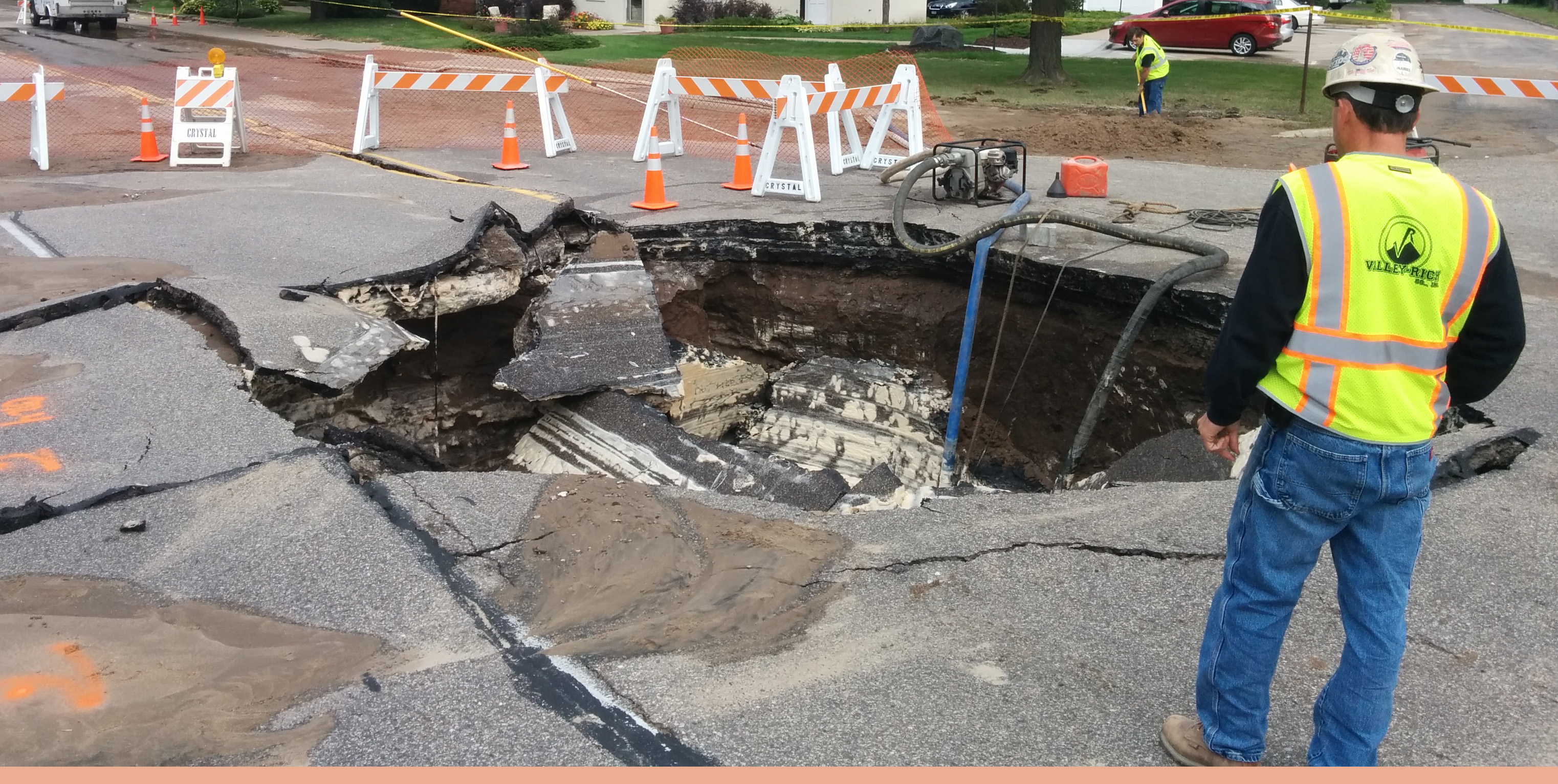 All joking aside, there are a few reasons.
Feasibility Study
As part of the investigation on our best course of action, we hired Bolton and Menk, an engineering firm, to do a feasibility study.
They were asked to review several options:
New centralized water treatment plant
Purchasing Minneapolis Water
Rehabilitate Existing Plants
An option for Water Softening
While the study found some advantages to the Minneapolis water plan (already softened water, no maintenance costs for treatment facilities), a couple disadvantages were noted as well:
Robbinsdale would lose control of our water supply's rate and treatment.

Minneapolis uses surface water from the Mississippi River, rather than from an aquifer like Robbinsdale does. This poses some risks, as aquifer water is considered much cleaner than surface water. This can lead to increased costs, and the potential of contaminants 'slipping through' the treatment process.
The biggest disadvantage was the cost. In the short term it was a bit less expensive, but over time the Minneapolis option was by far the most expensive option. Roughly 20 million dollars more expensive over 30 years, assuming a modest 3% increase in cost per year (last year they raised the rates of the Joint Water Commission - Golden Valley, Crystal and New Hope - 6%).
And there would still be costs and efforts on our part - a large reservoir, backup wells in case Minneapolis water is compromised and the ongoing maintenance and operations of those important elements.
Our city engineer was not in favor of this option, nor did the feasibility study recommend it.
Rehabilitate Existing Plants
Another option studied was rehabilitating our existing treatment plants - there are three.
These plants are 60 years old and need substantial overhauling. While certain elements of the plants have been upgraded over time, many others have lived their useful life.
It would require maintenance and operation of three separate facilities, including extensive building modifications.
Part of our current system, including water storage tanks and a well, located near the downtown water tower, are considered vulnerable to contamination given their location. This vulnerability is not considered serious, but is a risk that is nice to remove from the city.
In addition to these negatives, the cost for these changes was also more expensive than a single, centralized water treatment facility.
And finally, rehabilitating the existing facilities would make the possibility of softened water nearly impossible.
New Treatment Facility
The feasibility study concluded that a new treatment facility was the best answer to our water needs.
Constructing a new Gravity Water Treatment Plant (WTP) along with phased water system upgrades was deemed to be the most technically feasible and cost effective alternative for achieving the primary objectives. The new gravity facility would replace the three existing treatment facilities and provide the City with safe and reliable drinking water to Robbinsdale's customers through the year 2050 - Bolton and Menk, Robbinsdale Water Treatment Plant Feasibility Study
The Cost
At an estimated $30,000,000 this is the most expensive project the city has ever undertaken.
Like all city projects, the bulk of the funding will come from residents and businesses. This is always the case, and always annoying - unfortunately there is not a rich Uncle hanging in the wings to help out. It would make life a lot easier.
To limit the impact on all of us, the Finance Director works very hard to spread the costs over time, limiting a large yearly spike in spending.
If the source of funds is bonding, there is an interest cost, but it also allows the payments to be borne over many years and the actual users of the services will be paying for them via utility fees.
For this project, the funds come from various sources.
The city applied for and received a low interest loan from the state Drinking Water Revolving Fund. This fund is designed explicitly for municipal water projects, and is available because these projects are often very expensive. This interest rate is lower than even our great bond rating can receive. The bulk of the funding will come from this loan.
When you pay your water and sewer utility bill, part of the money you pay is set aside for water and sewage projects. Money from these funds will be used to pay the bonds.
Because there will be a need for water main improvements in areas leading to the plant, some street work will be required, and money from our street reconstruction fund will be used for a portion of the project.
While there are additional costs for water softening included in the plan, residents will be able to save costs (and hassles) with the need for home water softening eliminated. No hauling salt or paying for it, and no need to replace an old softener.
The Location
All of the studies and conversations were using a site near Lee Park, 3760 Lee Avenue, which was formerly a school district maintenance facility. This location has long been considered the spot for a new treatment facility.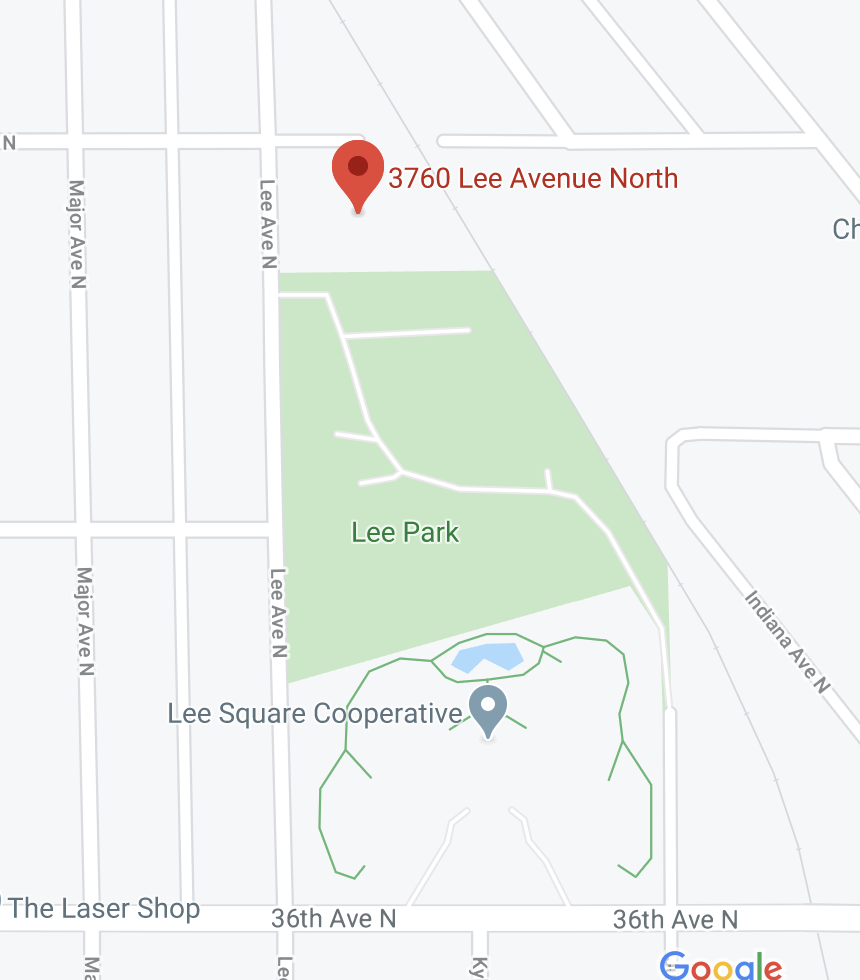 At the first Open House for the project, on Feb 11th 2019, the three options were presented along with the Water Softening option.
The preference for water softening was overwhelming. Follow up feedback was equally positive and the Council instructed staff to include water softening in the plans.
While those plans were being developed it became clear that the addition of softening would be very challenging at the 3760 Lee site due the extra space that is necessary.
Staff started at looking at potential sites that would be a better fit. They didn't have to look far - another site on the other side of the park looked promising.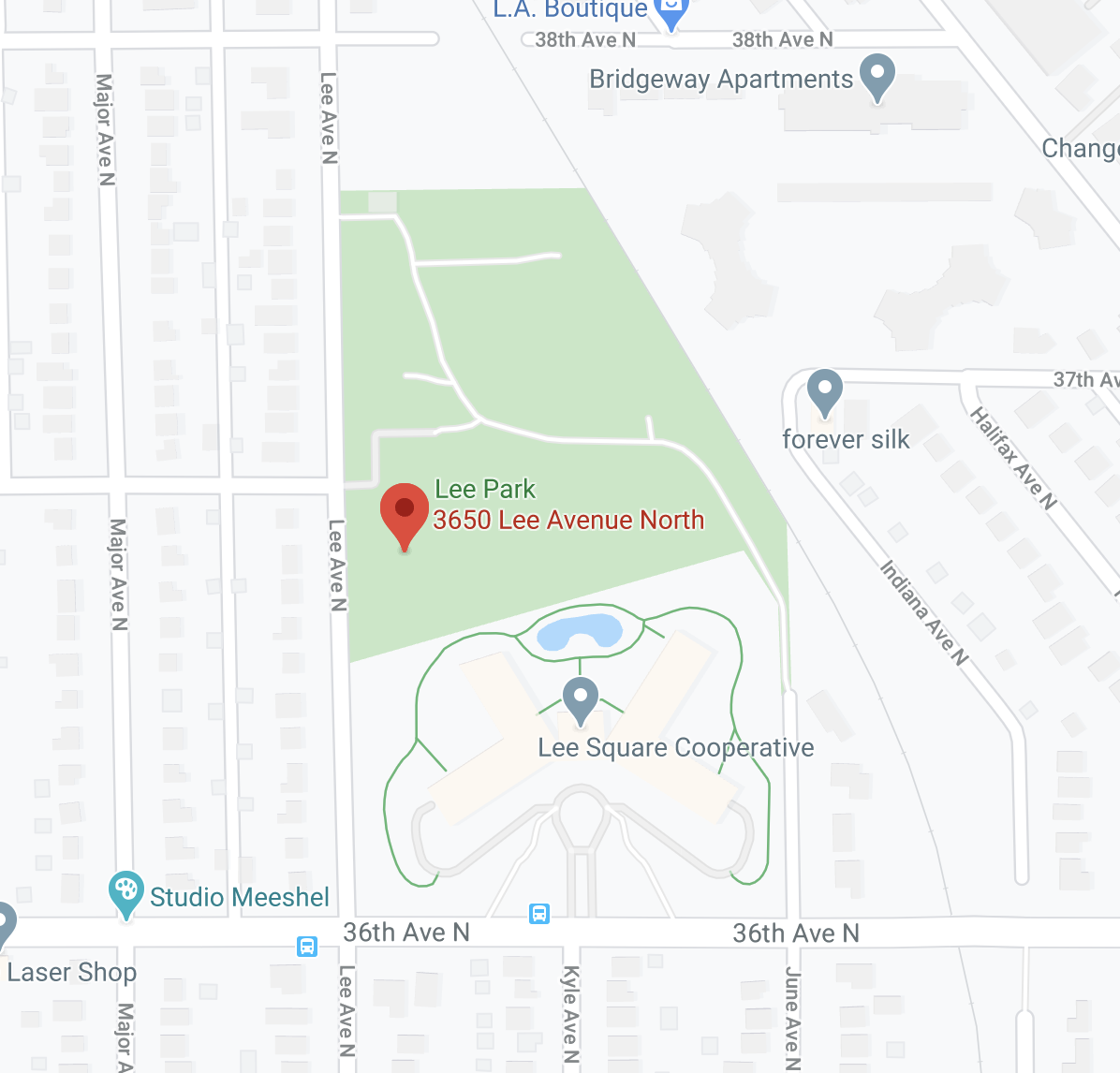 While the map above thinks it is park land, it is not. It is an empty lot owned by the city with an easement specifically reserving the site for future utility needs.
As part of our effort to get feedback, George Selman and the City Manager worked very closely with the board and residents at Lee Square, meeting with them at least three times. There were more open houses with letters notifying the neighbors, and the council and EDA board heard comments. All of this was to help insure any building would fit into the neighborhood and have as little impact as possible.
These decisions are always difficult - there obviously is an impact when a formerly vacant parcel is developed, whether it is located on the north side of the park, or the south. Undoubtedly there are people that didn't want this in their neighborhood, or perhaps even at all.
To help ease the impact, we took a careful look at the building.
The Building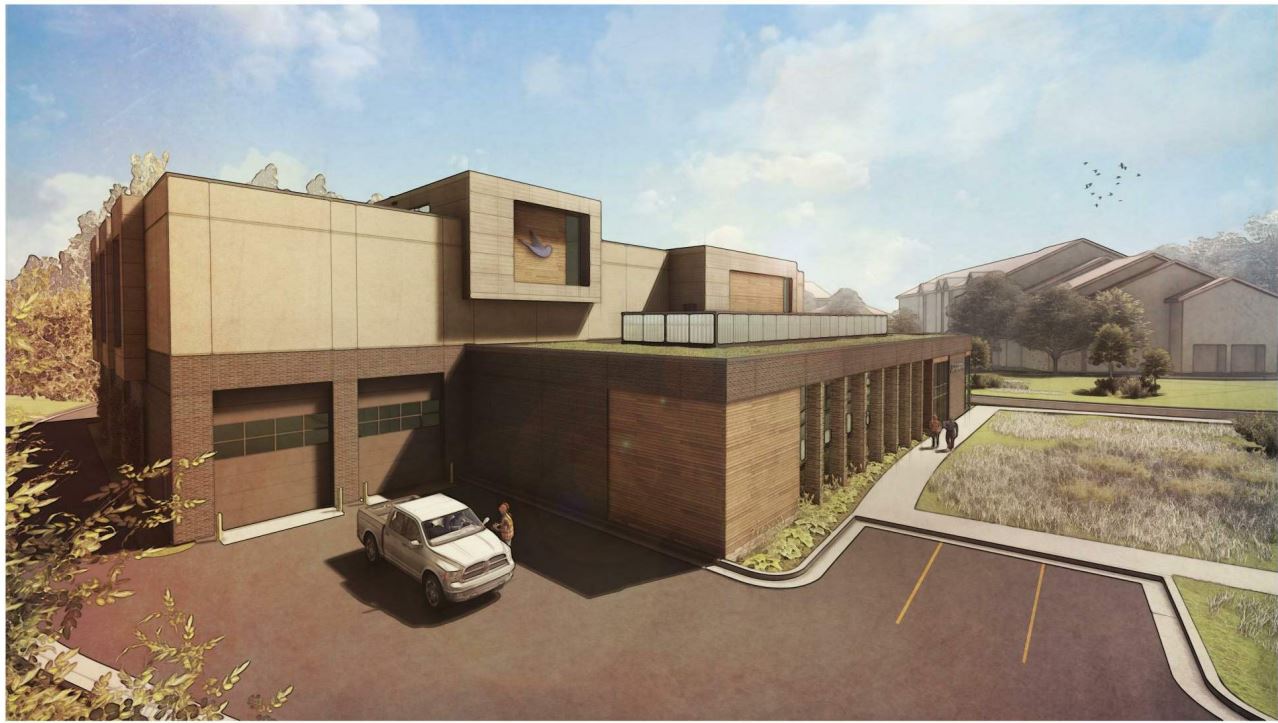 All along we knew that this building was going to be near a residential area, and we focused on a building that would fit into, or even improve the neighborhood.
The early concept plan the staff and architects presented was pretty good, and by design not complete. At a work session, Staff and Council discussed and bounced ideas around, and incorporated feedback from the community. The architects came back with another plan that incorporated the suggestions and dealt with engineering details that came up during planning. Another work session and a few more details discussed and passed along.
Finally on January 13, 2020 a final Open House with letters again sent to adjacent neighbors and invitations on social media and in the weekly city news. Feedback was again requested and received.
The final concept plan is pretty nice, and all the better with the feedback incorporated into the design.
You can see an animated version courtesy of CCX News:
A few extras are included in the plant to further help reduce environmental impact - a green roof, a rain garden and potential solar panels (still under investigation).
The final building may look a little different due to engineering changes and some slightly different accent colors, but the animation provides a pretty good representation.
What happens to…
The building is replacing an empty lot, and there will be impacts without a doubt.
As mentioned, every effort was, and continues to be, made to blend the new building into the neighborhood.
But still, like any project, there are questions.
They vary from landscaping, loss of vegetation, impact on the park, parking, traffic and more.
A landscaping plan is being developed, incorporating suggestions from Lee Square and other neighbors.
Additional traffic to the neighborhood should be minimal. Some morning and afternoon city vehicles for the staff needed to operate the facility. Three or four semi's per month to deliver lime and pick up the spent lime. The site was designed to allow trucks to loop around the building and not need to turn around. All loading an unloading will be done inside the building.
Additional parking is being added near the current park parking lot to help ease overflow during high demand times.
The walking/running trails throughout the park will remain (although may need to be temporarily closed during construction in some places).
The building will be relatively close to the ballfield, but should not impact players or spectators during games and practices.
Added Park Space
With the change of locations, the land north of the park will be available for park expansion, and a large open green space in front of the treatment plant will remain. Still very early in the process, but there is hope that the park will be improved as well.
Water Tower Replacement
In addition to the new plant, our iconic downtown water tower needs to be addressed. It is vastly undersized for current and future needs of our city. The current tower holds 125,000 gallons, much of the reason for pumps constantly running in the summertime.
A new tower is in included in the overall system plan. The new tower will hold 750,000 gallons - clearly far more capacity then the current tower.
No decisions have been finalized for the location of the new tower, however staff is working with MnDot on a site between Hwy 100 and Lakeland and West Broadway.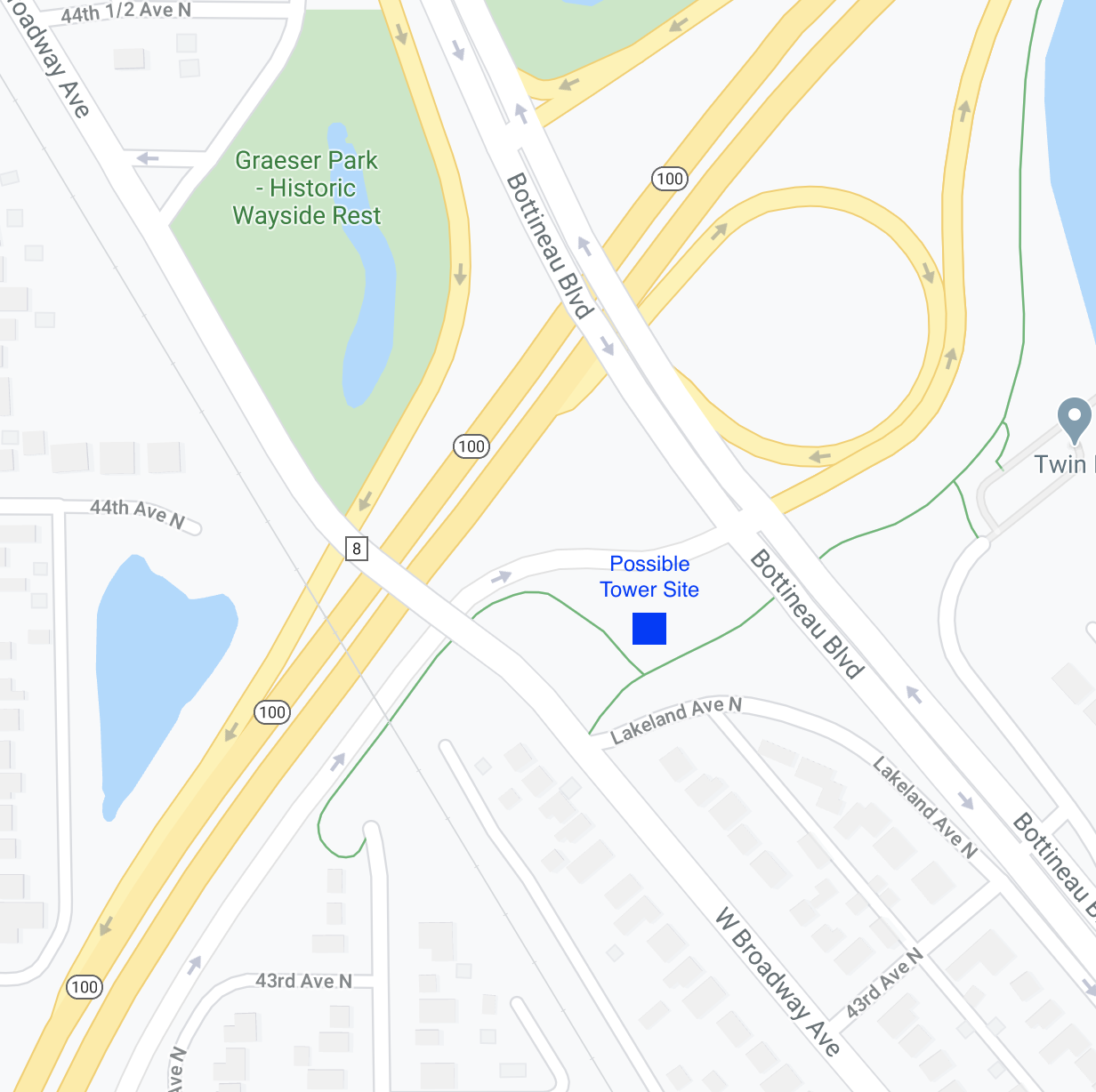 There is strong hope that we will be able to keep our familiar, 'small town' tower as a non functioning icon for the city, as well as improve our water system for the next 50+ years.
More information forthcoming on the water tower front.
When do I get Soft Water?
The project has been approved by the council and some investigative drilling for the well has been conducted. Late this spring, following approvals from the Minnesota Department of Health, bids for construction will be sought and a contractor chosen shortly after.
Construction should be underway later this year, with completion and testing on track for summer 2022. The new plant should be online for production and further testing by the fall of 2022.
In the End
We do our best to insure the city is taking smart, careful steps to handle the future needs of residents and businesses.
A new water treatment plant, that includes soft water, is one of those needs. Without improvements to core facilities and roads, maintenance costs rise and our city becomes less desirable.
Maintaining and improving infrastructure is vital to keeping Robbinsdale the vibrant, cozy, growing, fantastic city it is.