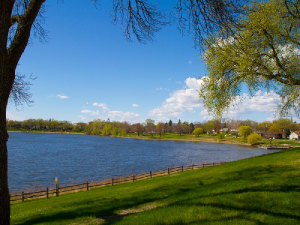 My mom loves to walk along Crystal Lake whenever she can, moving her routine inside only after the temperature falls too far and the snow piles too high. She'll get out a couple times a day in the summertime, and then let me know about all the people she ran into, how pretty the lake looks and all the ducks and geese she sees along the way.
It was one of the things that made the move to Robbinsdale easier for her, and the thing she likes the best about her new home.
And now that the Three Rivers Park District is planning a new trail through town, and close to the lake, she is even happier.
The Crystal Lake Regional Trail will link with other existing trails in the area, including the Grand Rounds trail along Memorial Parkway and the Medicine Lake Regional Trail. It will ultimately reach all the way to Elm Creek Park Reserve.
There are still a couple details to work out along the way, but generally speaking the Robbinsdale portion of the trail will stretch from Victory Memorial Parkway, near Lowry Avenue; past the west side of Lakeview Terrace park and Crystal Lake; loop behind Copperfield Hill, Robin Center and City Hall on Lake Road.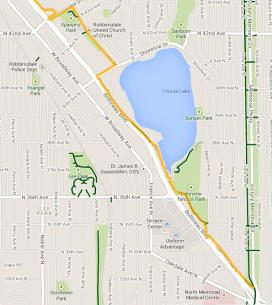 It then crosses 42nd/Lake Drive and continues along Lakeland Ave to the new trail head at the current Twin Lake boat launch next to Hwy 100. The trail then stretches further north by linking with the current trail under Hwy 100 and then following Lakeland Ave into Crystal and beyond.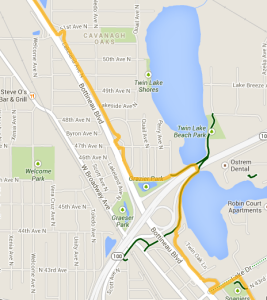 I am excited for the new trail for a couple of primary reasons.
Investment in Robbinsdale
The typical Three Rivers Park is a huge swath of land with lots of amenities – boat launches, golf courses, skiing – both cross country and downhill, massive play areas, even horseback riding. They are also typically in outer ring suburbs, due to the availability of land. Robbinsdale is, obviously, somewhat limited in available land for parks or any other use.
The park district has realized that they need to improve access to parkland for inner ring suburbs like ours, and the trail system is one way they are addressing this issue.
Because the Three Rivers Park district is a regional system, you and I have been paying for these not conveniently located parks through our tax dollars for many, many years. Now we are getting some of our money back with this investment in Robbinsdale and the fantastic amenity of a regional trail.
"Free" Parkland
This is certainly not free in any sense of the word. It is a large project, costing about 2.6 million dollars – and in a sense we have already paid for most of it through previous taxes, both federal and park district.
The project will directly and positively benefit Robbinsdale without a single dollar coming out of the city's already stretched budget. Without a specific referendum or large tax levy increase, a trail like this would not happen for the foreseeable future.
We just aren't going to get a large regional park with tons of amenities in Robbinsdale, there is simply nowhere to put it. But we can look at how to maximize the benefits of what Three Rivers is doing right now.
One way to do that is to insure that we have the best, most interesting route that we can, given the inherent limitations and circumstances. One that emphasizes the best features of Robbinsdale, and allows both visitors and residents to enjoy new views and aspects of town.
Crystal Lake Options
There have been ongoing discussions about the trail and route for several years, including public open houses. A good portion of the trail has been determined, but an area near Crystal Lake is still up for discussion. Three Rivers has given us three options for the area.
Option One
Option one simply continues right along the sidewalk area next to County Road 81. The illustration below also includes an optional spur for an overlook.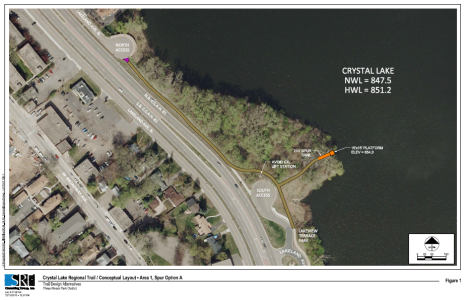 Option Two
The second dips down into the small wooded area between the lake and the road. The trail continues on a boardwalk through the area.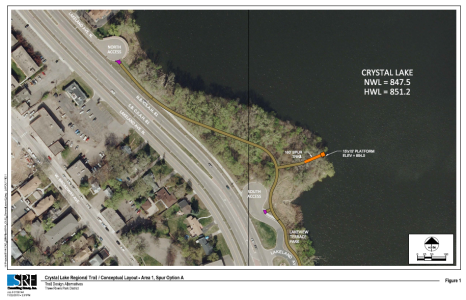 Option Three
And the third reaches all the way to the lake and runs along the shoreline. "Stilts" and a boardwalk will keep the trail above water and provide views of Crystal Lake.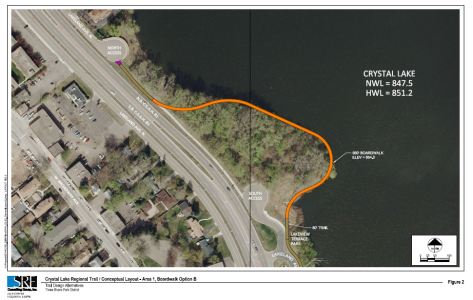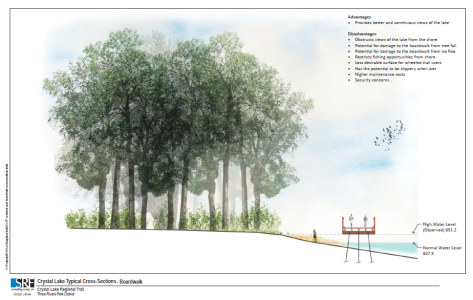 I try to withhold a final decision on matters until after I have received the final report and comments, which is almost always at a Council meeting. But I am currently leaning toward option three as it will showcase the lake and add some interest to the trail while having less impact on the trees in the area.
Objections
A few people have expressed a strong objection to option two and three. Some have asserted that the trail should stay along the roadway and leave the small wooded area untouched. They are very concerned about disruption to wildlife in the wooded area, and are very vocal that the trail should simply stay on the sidewalk.
While that is certainly one of the many factors that need to be considered for this project, these are urban animals that have proven to be incredibly adaptable – and in fact live next to what is essentially a four lane highway. I believe that option three will have little to no long term impact on them.
There are other folks that argue government shouldn't be spending money on parkland at all, and especially not on trails.
I disagree with that both conceptually and in relation to this specific project. I believe that an important gauge of the strength of a city is the strength of their churches, schools and parks. Parkland is a vitally important element to a city, making it more attractive, providing quality of life to residents and helping stabilize property values.
And for this project specifically, the reality is that the money not spent in Robbinsdale will just be spent in another community shifting more of our tax dollars to others.
More Information
Plans for the trail, including more details, are on display at City Hall during regular business hours (8:00-4:30). Staff is happy to answer any questions or discuss any concerns you may have during that time.
The City Council will be discussing the project and likely making a decision receiving feedback* on the preferred route through Robbinsdale at our January 21st meeting. The meeting is held at City Hall and starts at 7:00 pm. While this is not a public hearing, public comments will likely be taken from those interested.
I encourage you to attend the meeting if possible. If you can't make it, the best way to submit written comments is via email to Richard McCoy or dropping them off at City Hall – that way the entire Council will have an opportunity to see all information. All comments received by 4:00 PM on January 16th will be included in the information packet council receives a few days before the meeting, allowing ample time to follow up with any questions.
There have not been a lot of comments submitted so far. All of us on the council are interested in hearing from more residents, so that our decision is based on input from residents and users of the existing trail. Please voice your opinion – pro, con or otherwise – on this great new regional amenity for Robbinsdale!
*Updated original post. We may or may not make a decision, but we will certainly get all the feedback. Depending on feedback, more study may be warranted.