Each spring a group of kids from Christo Rey High School roll into businesses across the Metro area for a great opportunity in hands on learning. A portion of every week is spent in classrooms and traditional topics and learning. Then once or twice a week they spread out to 90 different companies for their Corporate Work Study program. There are a broad range of industries represented including technology, law firms, hospitals, insurance companies, utilities and many more.
While the industries are different, one thing that remains the same is the hands on learning with technology – whether it is fairly straight forward Microsoft Office tools, or more advanced software that run corporate systems.
At my company, we have students working in several departments. A young man working in our corporate technology team (setting up new computers, handling network issues), two folks in our marketing department importing and exporting data for the sales team and another in human resources using tools to update employee information.
These kids are getting a huge advantage for their college life and beyond.
While this program is limited to a single private high school (so far), the future is undoubtedly headed towards increasing use of technology in every job, and hands on experience will be crucial to the success of the next generation of kids.
What About Robbinsdale Schools?
District 281 staff and the School Board have noticed the shift and have incorporated new technology into their curriculum. Other area school districts have also taken notice, and Osseo/Maple Grove, Hopkins, St Louis Park, Richfield, Edina, Eden Prarie, Minnetonka and more have all asked for, and received, additional funding to add technology specific programs to their schools. District 281 has done their best within their currently available funding, but are at a significant disadvantage to our neighboring cities.
That can change this year, as the District has two levy referendums on the ballot this fall.
The first is a renewal of the current operating levy, which won't increase taxes if approved. It helps fund different areas of daily school and district operations, and helps keep class sizes lower than averages across the state.
The second is a specific technology levy that will "provide a stable source of funding to enable the school district to fully implement its comprehensive, research-based technology plan and support student learning", according to the school district.
That's a broad statement, and it is tough to see what will actually happen if they get the funding. Fortunately they have a fact sheet available with more detail, including a potential budget for the first year.
Simply put, it brings new technology into the classroom and student's hands. It allows students to interact with the technologies that are being used in businesses across the world, and that are quickly becoming minimum requirements for many jobs.
Without the funding from the levy, the district would fall behind the other communities in the western metro, and students will miss out on opportunities others are getting.
How much does this cost?
So all of this sounds great, but expensive. And it is expensive in some ways, but in other ways it is a bargain.
If the technology levy is approved, the impact to the average home in the district ($195,000) would be about $7 per month.
The amount the District is asking for would go a long way, but is still among the lowest technology/capital improvement levies in the Twin Cities – for instance, the Hopkins School District levy is nearly four times that size, and Eden Prairie's is double. While asking for more money, they are still being respectful and fiscally responsible to area residents.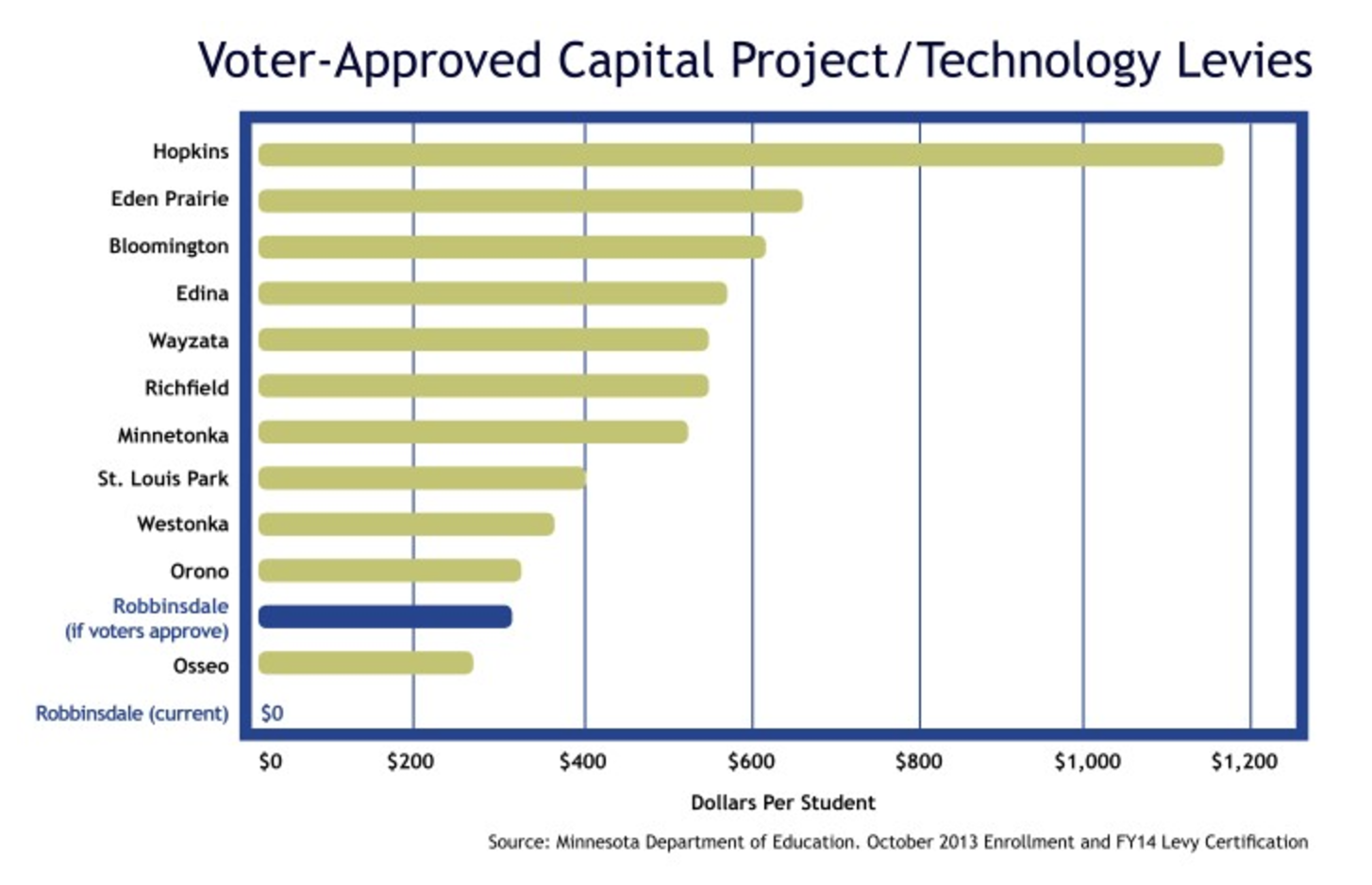 The operating levy is simply a continuation of the current levy and passage would not be an increase to current taxes. However, should it fail, funding equivalent to 225 teachers will be lost every year.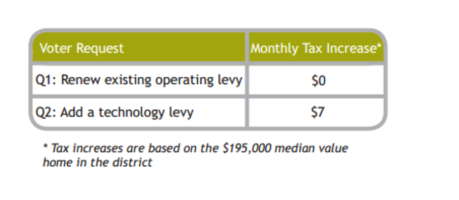 Arguments For and Against
There are nearly as many opinions for and against tax increases as there are taxpayers.
Some arguments are logical, others are based on personal benefit and some are personal beliefs and politics.
One complaint is that the school district needs to run more efficiently and lower costs, not raise them. It is certainly understandable – who wants their taxes raised? – but in this case the argument is misplaced.
While there are undoubtedly areas that can be improved, the administration and School Board have done a tremendous amount of foundational work since 2000-2001, improving efficiency and cutting $18 million to balance their budget.
They have managed their budget through funding shortfalls when the state "borrowed" money from schools to help balance the state budget. They have cut administrative staff, looked at options for outsourcing where it made sense, and implemented other cost saving measures. Over 80% of the district budget goes towards salaries and benefits – to teachers primarily – so to keep class sizes stable, the vast majority of cuts have been in support and administrative functions.
In short, they have worked hard to get the biggest bang from the buck they can.
Another argument I have heard goes something like this: "I don't have a kid in the school system, so why should I have to pay for schools?"
The answer to this question leads to what I feel is the strongest argument in favor of the the levies.
I believe school funding is not only an investment in our schools, but an investment in our homes and cities. When looking for a new home, the school system is almost always a top consideration for families.
I would argue that the cost of not passing this effort would lower the value of my home far more than $84 a year. If our schools are ignored or not given the tools and money they need to be successful, one of the biggest assets our cities (and home values) have for attracting buyers is damaged, possibly for years to come.
John Green (author of the NY Times Bestseller "The Fault in Our Stars") says it even better: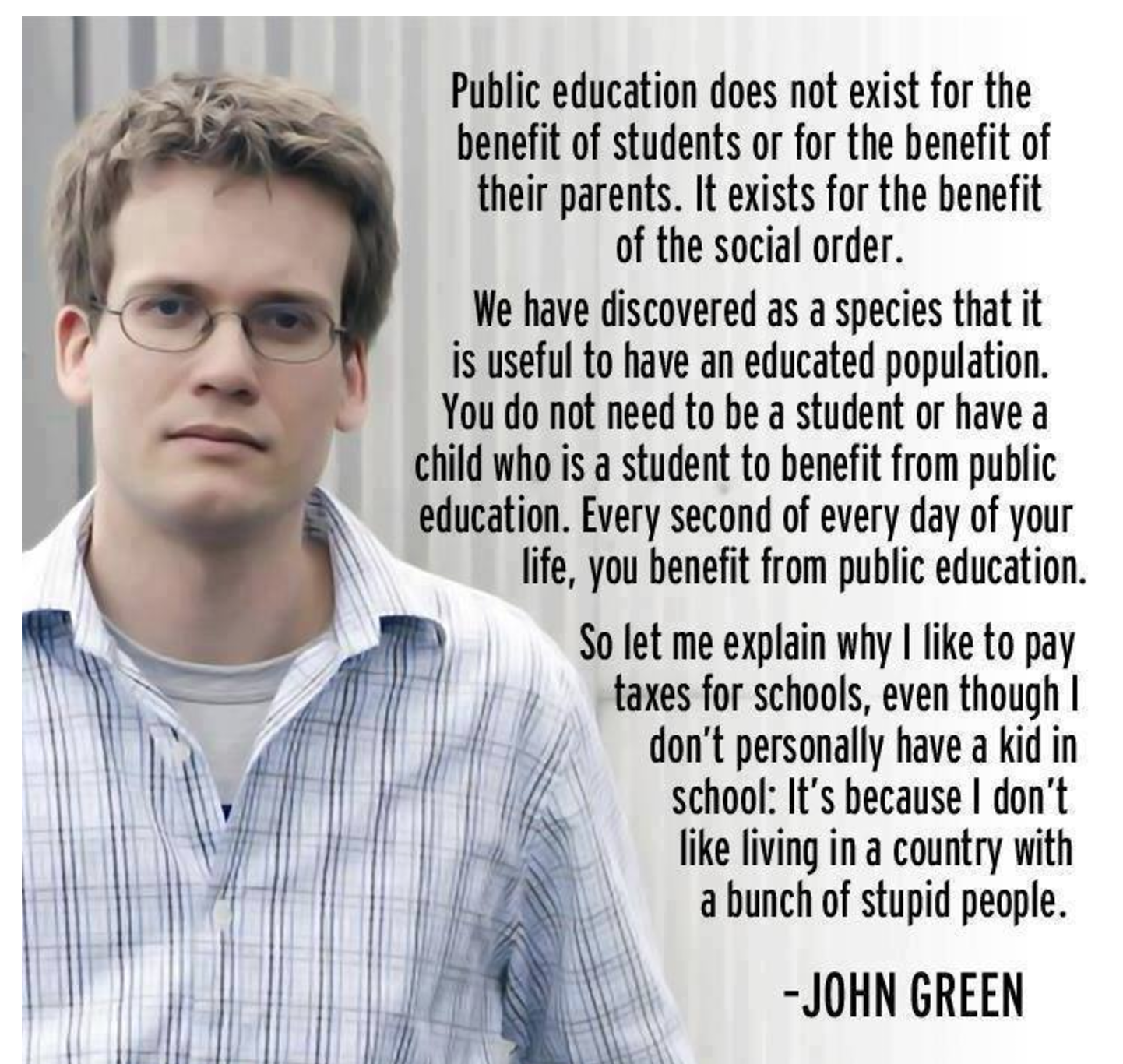 The Ability to Lie
Opponents of additional school funding just won a court case that allows them to lie in literature and advertisements, when opposing ballot questions like levies and referendums. Not kidding.
On the other hand, the school district is required by law to produce information based on facts in all of their communications – literature, videos, town hall meetings, you name it.
A typical tactic of opponents is to produce a misleading or inflammatory advertising blitz right before the election when a rebuttal of the claims is impossible.
As always, be cautious of what you read and hear (yes, including my opinion) and do your homework. Investigate both sides of the issue before believing what is said or printed.
Vote Yes, twice
For the strength of Robbinsdale and the entire District, I hope you join me in voting yes, twice.
---
Interested in Helping? Questions?
Get a Yard Sign – Fill out a short form and a yard sign will be delivered to your home. A free, simple way to show your support.

Make a Donation – Big or small it all helps!

Yes 281 – Lots of great info on the community based group's web site. "Yes281 is a group of community members working together to inform and influence voters to "vote yes twice" on Nov. 4. We are advocating passage of the levy questions to keep Robbinsdale Area Schools strong and to give our students the tools and opportunities they need to succeed. Strong home values, a thriving community and an educated workforce are outputs of strong schools.
Yes281 is not a political organization and is not a 501(c)(3). We are not affiliated with the Robbinsdale Area School district. Yes281 does not have a position on any curriculum, standards or teaching methodologies."