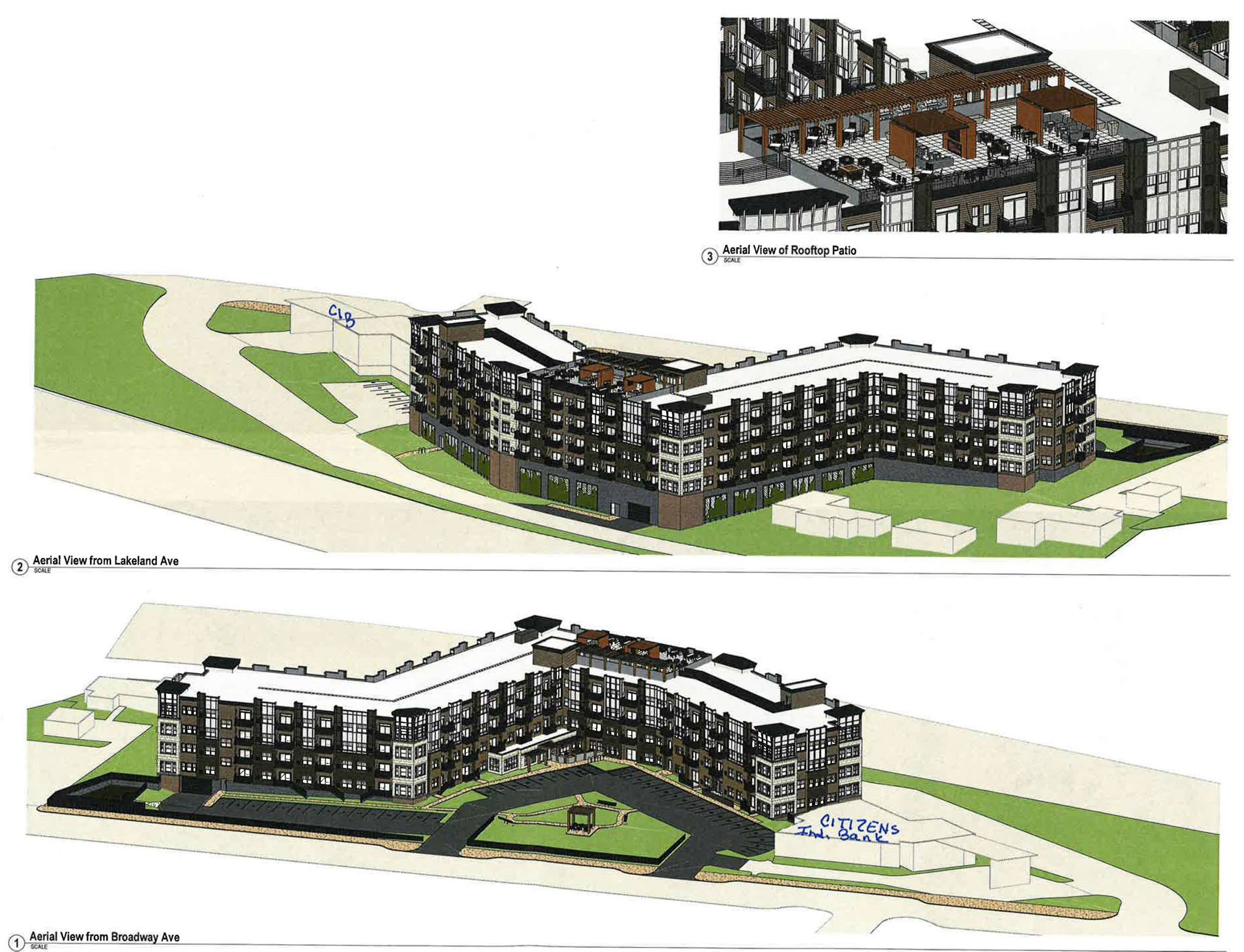 Recently two different developers have brought proposals for apartments to the city.
Both proposals are very early in the process and there are many, many details to be worked out before either of them break ground, and the possibility (although remote) that they do not move forward.
Both buildings are for 'market rate' apartments, with final rents pending market studies conducted by each developer.
The early results of both studies indicate a large demand for this type of home in Robbinsdale, and each developer stating that even if both properties are built, the demand would not be met. They are also targeting a similar tenant mix, from young professionals to 'empty nesters' and retirees that want to downsize, but stay in Robbinsdale. One mentioned an abundance of nearby North Memorial employees as potential tenants.
City staff has been working with the developers to insure their proposals meet zoning, land use, parking and other ordinances and guidelines in city code, just as they do with any property owner or developer that brings a proposal forward.
At our work sessions, the council asked the developers to consider some architectural details or to modify the 'this could be any suburb' look of the buildings. Our desire is for high quality buildings, that both fit into the neighborhood and standout as 'only in Robbinsdale'. It is a tough balancing act and both groups agreed to come up with some additional ideas.
Citizen's Bank site
The first proposal is for the land next to Citizens Bank, with the bank remaining in the current location. The development would use the large parking area near the bank and the area where the office building next to the bank, and fronting Lakeland Ave (frontage road for County Road 81) now stands. The developers have also purchased a single family home that would be included as part of the development.
The proposal is for approximately 130 market rate apartments, with lots of amenities like a roof top deck, underground parking, pet friendly and an enhanced resident community room, including a kitchen.
The proposal shows units that front West Broadway would have their front door accessed directly outside, providing a townhouse-like look that is designed to fit into the neighborhood.
36th and France Site
This proposal includes ground level retail space and around 200 units.
The commercial space will be on the corner of 36th and Bottineau Blvd. As this proposal is so early in the process, future commercial tenants have not been identified, but the developer has an undisclosed wish list they are working on.
This building is also high on amenities including underground parking, pet friendly, a large outside pool, and a community room for resident use.
As with the the first proposal, units facing West Broadway would have outside entrances that look similar to a townhouse and blending into the neighborhood.
Parking and Traffic
With any major development, the city looks at parking and traffic issues that may occur. Parking for both proposals contains at least 1 underground spot for each bedroom, and additional ground level parking for guests.
Traffic in the area has already been discussed by the staff and council due to the Hy-Vee project, and initial traffic counts and documentation have been started.
Additional traffic studies will likely be required for the corner retail development.
Both have already indicated they have considered traffic counts and flow when designing their buildings.
Why Apartments?
A couple reasons.
First, the owners of the property get to decide how they want to use land - within the boundaries of zoning and city ordinances. Zoning rules are complicated and designed to balance the needs of cities, landowners and residents. Cities have some ability to manage this, but must follow rules and laws set by other entities as well. These properties are zoned 'B-2' which allows this use with conditions. If the developers meet the conditions set forth in our ordinances, they are able to build.
Second, Robbinsdale is in dire need of this type of housing.
Commonly used guidelines for affordable housing uses an income at or below 80% of area median income as it's base (for 2014, HUD calculated an area median income for a family of four of $82,900).
Using that base, analysis indicates that 92% of Robbinsdale housing - whether it is single family, townhouses, duplexes or apartments - is considered affordable for a family of four.
You can argue whether that is an accurate measure of affordable, but all cities in the metro area use this formula and, at the least, it is a consistent measuring stick. 92% is an extraordinary amount of housing that fits that definition.
Market rate housing is not considered 'affordable housing' by that measure, but this also does not mean they will be on the high end of rents in the metro area.
Adding market rate housing in a fully developed city means redevelopment, and typically apartments. Apartments are in great demand through out the metro area, with vacancy rates near record lows.
Why not condos? The condominium market became very difficult to finance after 2008 and the current market for condos is incredibly small. Market studies show people are more interested in renting rather than committing to ownership.
What happens to the Current Businesses?
At the Citizens Bank site, the current bank building will not be affected. The apartments will be built keeping access and parking for the bank.
The American Legion and St. Petersburg businesses will work with the owner of the property and within the terms of their current leases to resolve their specific situations.
Representatives of the American Legion attended the work session when the presentation was made, and the developers had met with them prior to the meeting.
What's Next?
As mentioned it is still early in the process for both proposals.
The Citizen's Bank proposal will be in front of the Planning Commission for a public hearing on October 26th, 7:00 at Robbinsdale City Hall 4100 Lakeview Avenue.
Channel 12 aired a report about this proposal which can be seen here: Citizen's Bank Interview.
The developer of the Legion/St Petersburg site stated they wouldn't be back for a public hearing until after the first of the year. More information will be published by the city when it is added to the agenda. Channel 12 also did an interview with this developer, which can be seen here: 36th and Bottineau Segment.
A little patience is needed as the process plays out, and additional details come forward. There will be lots more information to come in the coming months.