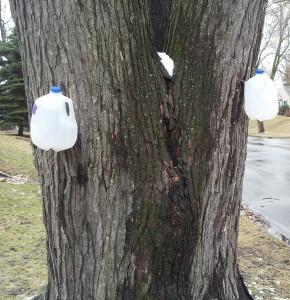 Recently some friends picked me up for a meeting, and as I got in the car they asked why I had milk jugs nailed to my tree. They haven't been the only ones to ask over the last few years.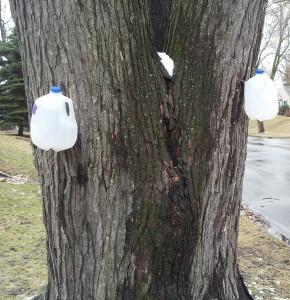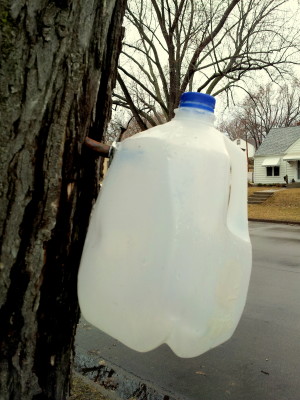 Three or four years ago my neighbor Donny approached us about tapping our Sugar Maple for sap. We thought it couldn't hurt, but weren't sure anything would come of it. A few weeks later he stopped by with a small jar of maple syrup that came right out of our tree.
Each year he has grown his "farm" throughout the neighborhood. This year he has three taps in our tree, two in his own and single taps in three or four other trees in neighbor's yards. The sap is flowing too – earlier this week each of our jugs were overflowing just a few hours after being emptied.
Donny came about this spring hobby after chaperoning his daughter's Girl Scout trip to a large scale maple syrup farm. He saw that the process was pretty straightforward, asked how to identify Maple trees and how to cook the sap down. A few days later he showed up at my door with a hammer and a jug.
The process is remarkably simple – collect the sap, cook it down and bottle it. The biggest hurdle is not letting it cook too long. Forgetting about it burns off too much liquid and essentially turns it to hard maple candy – and creates a tough job of cleaning.
It takes about 10 gallons of sap to produce a quart of syrup. The results are a mixed bag in our house (and his). I love the rich taste of the real maple syrup, but years of watered down commercial "maple flavored sugar" is just too big a jump for some folks.
If you find yourself behind the hospital and notice a bunch of trees with milk jugs on them, watch out for a guy with a 5 gallon pail trekking back to his "sugar shack"!