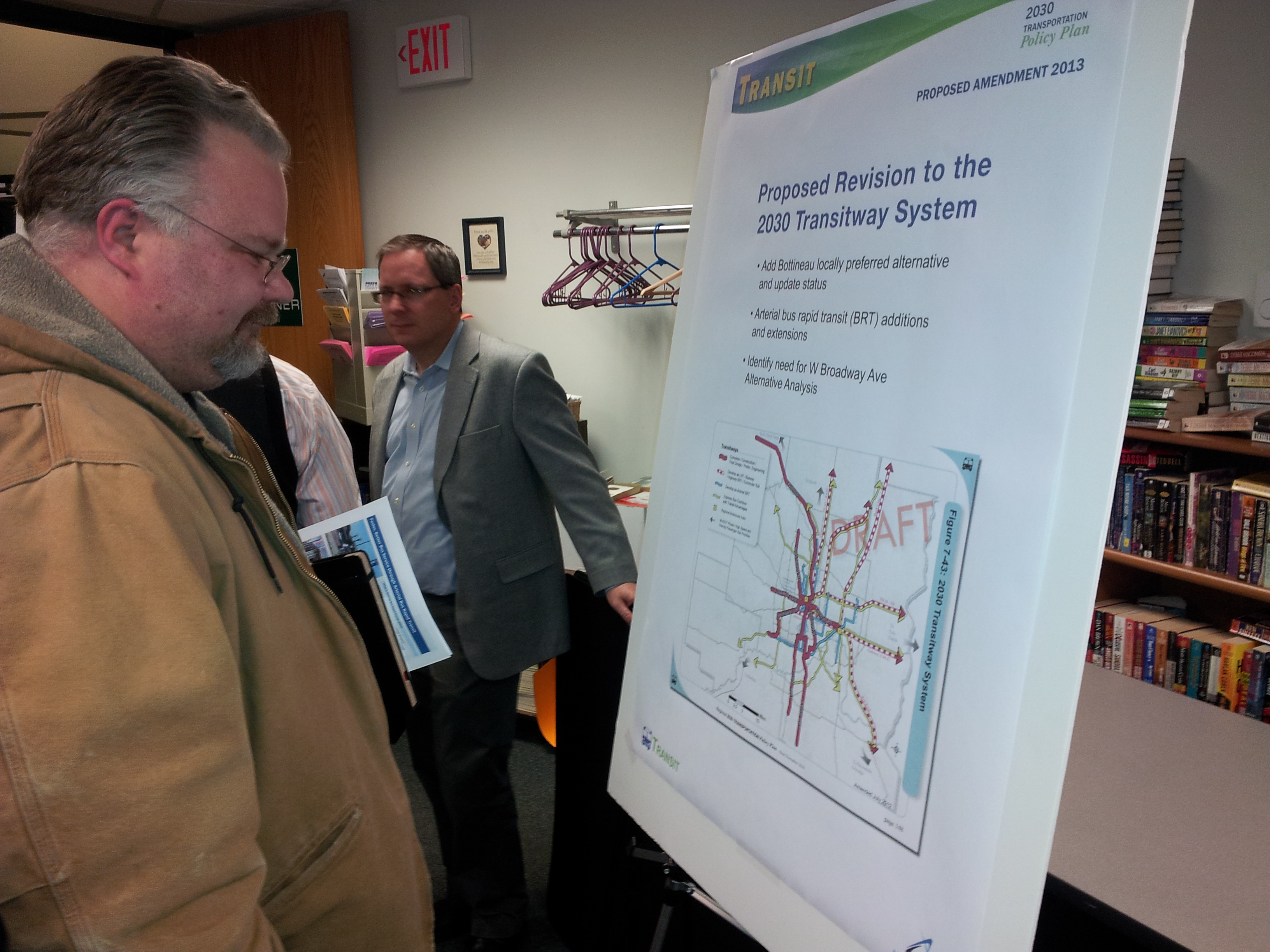 Last night the Met Council held a public meeting at city hall to take public comment on amending their Transportation Policy Plan. The amendment includes adding the Bottineau Transitway and several Bus Rapid transit corridors throughout the metro. You can read more about the meetings and the amendments on the Met Council website.
The potential impact to Robbinsdale is the addition of the Transitway and the light rail line. The amendment adds the locally preferred alternative to the plan, which follows the Burlington Northern rail corridor through Robbinsdale. (more info here)
There was a great turnout including Met Council representatives and staff, Hennepin County Commissioner Mike Opat, Hennepin County staff working on the Transitway, city council members from Brooklyn Park, Golden Valley, Crystal and Robbinsdale and many residents.
I spoke to people that loved the idea, people that hated the idea, and lots of folks that were someplace in between. If you have an opinion on the plan, make sure you get a comment in!
There are a number of opportunities to comment if you couldn't make it to the meeting:
Write to Public Information at 390 Robert St. N., St. Paul, MN 55101
Email to Public Information at public.info@metc.state.mn.us
Record a comment on the Public Comment Line at 651.602.1500 (TTY 651.291.0904)
Fax to Public Information at 651.602.1464.
A public hearing is also scheduled for 5:00 pm Monday March 11th, at Metro Transit Heywood Office Building (570 6th Avenue N, Minneapolis). The full Council votes on April 24th.
The comment period extends until March 21st.