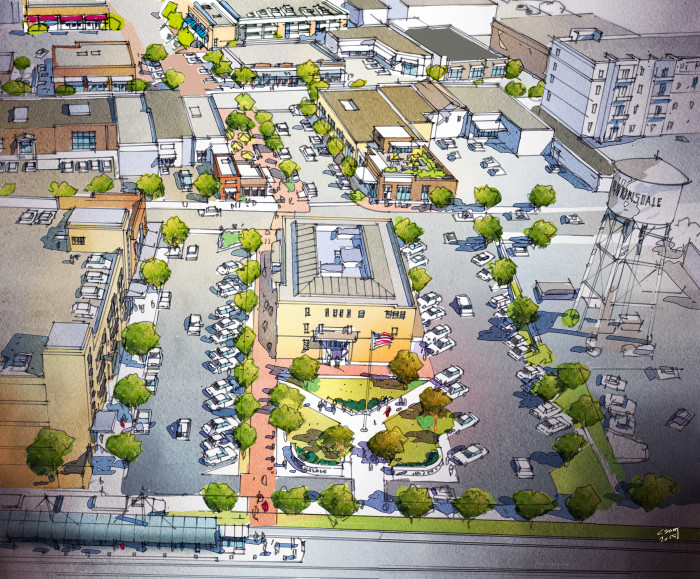 A light rail train pulls into the station and commuters hop out. They are greeted with a tree lined plaza and a walkway leading straight to downtown Robbinsdale, with restaurants, a brewery and tap room, the State's best butcher shop, a locally owned furniture shop, and an antique consignment store a short walk away.
The walkway, or "promenade", extends across West Broadway to the "back door" of Nonna Rosa's and Pig Ate My Pizza and extends both the downtown area and the possibility of even more small businesses popping up within walking distance of the light rail stop.
A parking garage, tucked next to the rail tracks and bringing hundreds of people into Robbinsdale each day, is "hidden" behind new commercial space that wraps around the structure. Hubbard Marketplace, currently largely unused, may contain a new cafe or retail shops. The buses that currently use it as a transfer spot are routed through the first floor of the parking area, creating the additional space for new business and improving the transfer area for transit users.
That is the vision that emerged during a 3-day Design Workshop to study the potential light rail stop in Robbinsdale. The Design Workshop was sponsored by the City of Robbinsdale and Hennepin County and led by Urban Design Associates (UDA), an urban design and planning firm.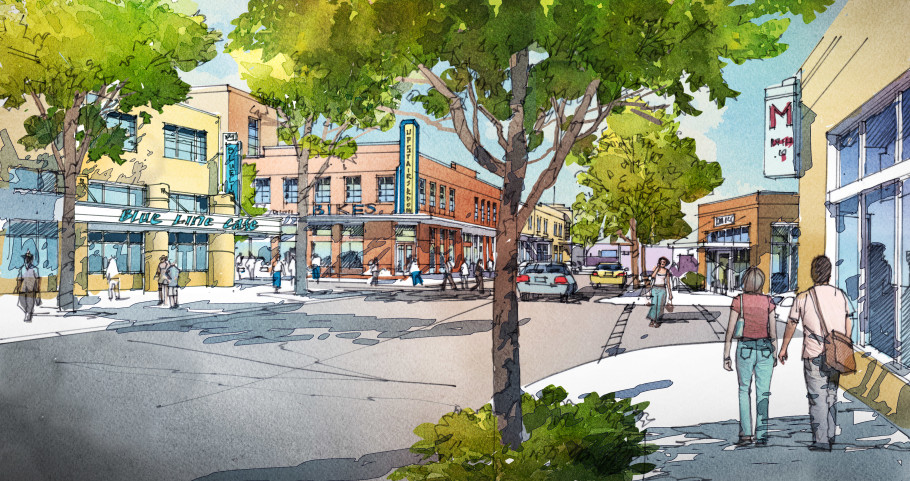 Hubbard Marketplace at left, looking towards 42nd (Courtesy of Urban Design Associates)
UDA met with business owners, the Mayor and council, the Community Working Group (Robbinsdale residents and community organizations), members of the planning commission, city staff and the Blue Line Extension staff before getting started. They were tasked with protecting the scale and charm of our downtown, enhancing and protecting existing businesses, creating an environment to encourage new businesses and 'disappearing' a 500 car parking garage to reduce the impact on the area.
EMI Audio, who would need to relocate in this scenario, was consulted throughout the process. They have shown an interest in moving to the retail area surrounding the parking garage.
The Study
The Blue Line Extension project (formerly known as the Bottineau Light Rail project) has included a station and parking garage near Hubbard Marketplace and the Police/Fire building since it's inception 5 years ago, so that was the starting point.
Looking East, 42nd Avenue at bottom (Courtesy of Urban Design Associates)
In the time since, there have been many ideas about how this area could be developed and what would be included in the project.
The study included many scenarios to insure ideas were researched, and nothing was missed.
The results of the study were presented to a similar group of people, including Hennepin County Commissioner Mike Opat and the full city council.
Several plans were shown, and most fell short in various areas. The final plan, however, was a stunner.
It incorporated all the major points that were offered from the previous meetings, and did so in a waythat exceeded all expectations.
Besides hiding the parking garage, the plans looked at Robbinsdale a whole new way and provided a path, both literally and figuratively, to improving the downtown area that is most effected by a potential light rail station.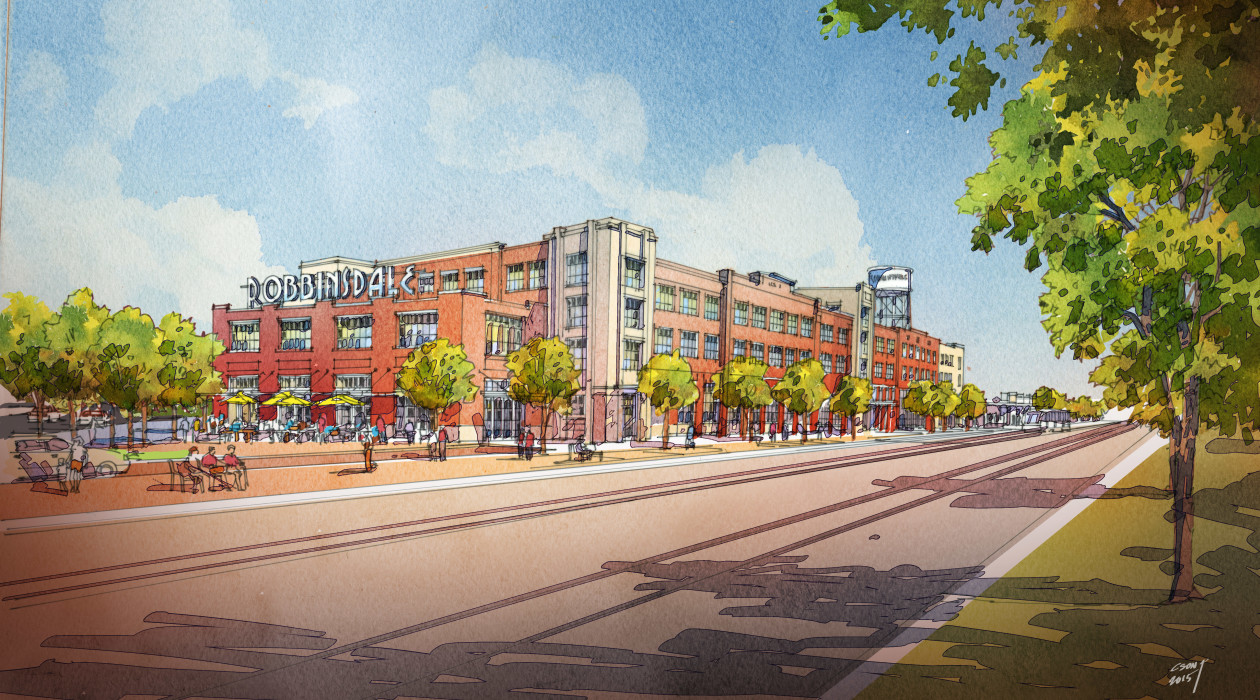 At 42nd Ave, looking toward Hubbard Marketplace (Courtesy of Urban Design Associates)
Concept plans like these are used to test out theories and provide starting points for ideas and feedback. At this stage nothing is cast in stone, and everything can be modified should unforeseen issues pop up during additional research. That is exactly what Station Area Planning is all about – research and feedback, then modifying plans to meet these changes.
The Future
While the light rail plans are moving forward, funding will not be secured for a few years – assuming all goes as scheduled. That schedule indicates trains picking up passengers in 2021.
In the meantime, the city can move forward on aspects of the new plan long before any light rail trains roll into town, jump starting the benefits that we see with a station in Robbinsdale.
Obviously there are still many questions regarding all of this – parking, traffic, who pays for what – and the studies will continue to look at all of it.
What will the addition of several hundred cars per day due to traffic in the downtown area? What can we do help improve traffic, regardless of a parking garage? How can we protect street parking for local businesses? Can we further reduce the impact of a large parking structure, while improving Robbinsdale? What is the best way to protect and improve businesses in town?
And all of that is just for the station area planning. The rail crossings at 42nd, 41st/Noble and 40th/39th 1/2 were also looked at, including the creation of "quiet crossings", and will be the topic of another post.
There are also impacts to residents along the line, and those are being addressed by yet another study.
There are lots of meetings and open houses left, and the ability to get more information and provide feedback is always available. Additional open houses are scheduled for September 10th and October 12th. Links for more information and feedback are listed below.
Planning for the next 50 to 75 years is both difficult and exciting. But it is absolutely vital for Robbinsdale's evolution as the "Best Stop on the Blue Line".
Blue Line Extension Links
Upcoming Meetings
Station Area Concept Plans Open House Details TBD
Preferred Station Area Plan Open House October 12th Time and Location TBD
Contacts
Robbinsdale Mayor and City Council