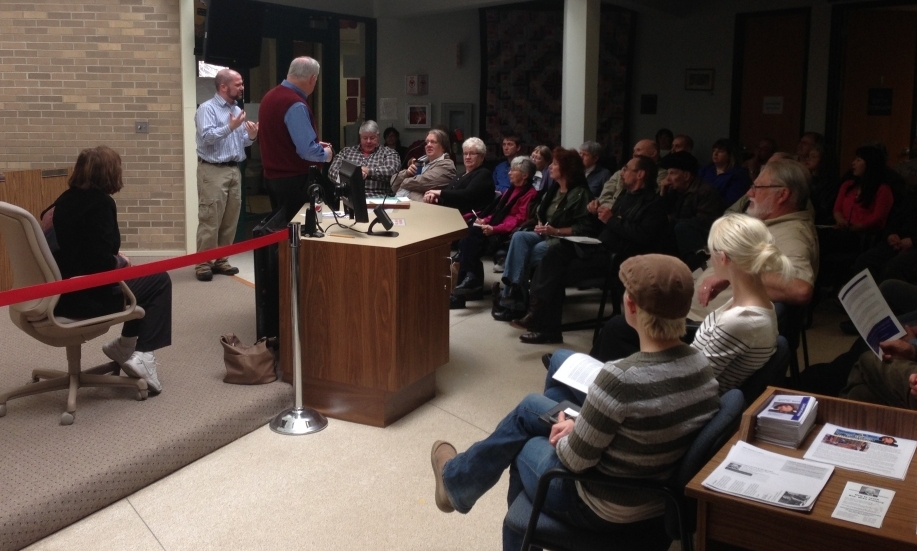 Saturday morning over 70 people jammed the city council chambers to ask questions and hear updates from our local Legislative members. Rep. Mike Freiberg organized the town hall meeting and invited Sen. Ann Rest and Rep. Lyndon Carlson to join him.
There were many other elected officials in attendance as well. Mayor Murphy, George Selman, Dan Rogan and I represented Robbinsdale. Several members of the School board were there to advocate for the district and education issues. There were also council representatives from New Hope and Crystal.
Most of the time was spent answering questions from attendees. After a short update about legislation to be tackled in the last few weeks of the session, the meeting was opened up for questions.
There were a wide variety of questions.
Varying opinions on Gay Marriage and the proposed new law, questions about environment issues including frac mining and the Keystone pipeline, medical assistance funding and property tax reform questions were answered as well.
Education funding was a hot topic, partially due to school board members in attendance, but members of the public brought up several issues as well. One resident politely, but forcefully, said he was not in favor of additional education funding because it has not made a difference in end results over decades.
School Board member Patsy Green asked the legislators to push for local control of school starting dates to allow for a pre-Labor Day start. Rep. Carlson stated that often times issues will not break down between party lines, but other competing interests. In this case the northern part of the state is very much opposed to starting before Labor Day so that vacations are not effected at resorts. They are also concerned about losing employees that would need to go back to school during a very busy week and weekend.
School funding was discussed as well, and there was lots of discussion about the effects of various proposals making their way through committees. It is still too early to know what the final bills will look like, but all were hopeful that the impacts will be fair to both schools and taxpayers.
It was an interesting hour and a half, with lots of great discussion pro and con to issues that effect the state and local communities.
There is another town hall scheduled for 9:30, June 1st at Crystal City Hall. This meeting will be a wrap up of the session along with lots of time for questions and answers.