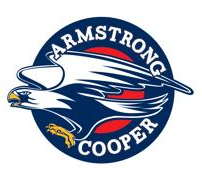 For years I have heard predictions that the two District 281 high school hockey teams would combine. My friends with kids in the Armstrong/Cooper Youth Hockey Association have seen this coming for many years, and have been discussing and arguing when it would eventually happen.
It seems the time has arrived. The number of players continues to drop and the school district has been holding meetings concerning how to combine the two programs for the 2014/2015 school year. There are two options. As the Sun/Post reported, "A merger would simply absorb Cooper's players, staff, and booster money into Armstrong's existing team, while a co-op would create a unified "Armstrong-Cooper" team with new colors and uniforms.".
This is an extremely difficult decision for everyone involved – coaches, players, athletic directors, school administration and the School Board. And, as always when kids are involved, an emotional one for parents, alumni and the public.
There are indications that a recommendation to proceed with a merger, rather than a co-op, will be given to the school board at a work session on April 8th. Official action only takes place at Board Meetings. The next scheduled meeting is on April 23rd.
A merger essentially means wiping out the Cooper name in the Boys High School Hockey program in District 281. The argument in favor of this option claims that Cooper's numbers are low and they can't field a team, so it is only fair that Armstrong should be able to keep their name.
At first look that thinking seems logical, but a closer examination some cracks appear in that opinion. I believe that a merger does significant damage to the school district as a whole, just when progress has been made bringing the district together.
In my mind, a school district should be fighting and taking a stand to insure each and every student is treated fairly and equally. While I am certain that this is not the intent, a merger does not treat each program as equally important.
A merger gives the impression of leaving a school behind, that Cooper's long hockey history is unimportant and their students and fans don't matter to the new team.
There is a long track record of cooperation through out District 281, including the recently formed co-op girls hockey team – named [Robbinsdale Armstrong/Cooper] (http://www.armstrongcooperhockey.org/page/show/1159190-ac-hs-girls-v-2014-2015-). There are examples of combining schools throughout the district at all age levels in extracurriculars, clubs and educational programs. These take on a name that honors each school or promote the district as a whole.
Youth sports organizations in hockey, baseball, softball, football, girls basketball and lacrosse include all kids in the district and use both Armstrong and Cooper in their names.
Promoting Cooperation
Several years ago, as president of the baseball organization for youth 13-18 years old within the district boundaries, I helped change the name of our group to Armstrong Cooper Youth Baseball Association specifically for the purpose of encouraging cooperation among the various cities that made up our teams. Some people perceived bias in the organization because it was named Robbinsdale Area Youth Baseball Association (named after the school district, not the city of Robbinsdale).
There was heat to take for this – the removal of the Robbinsdale name was not a popular choice for those that remember the closing of Robbinsdale High School. Being an incredibly proud resident of Robbinsdale the decision was personally difficult, but I firmly believe the best one to help promote the long term health of the program and to insure all of our families and players felt included.
In my mind a merger does the exact opposite – it inadvertently promotes division in our communities.
School Boundaries Changing
The boundaries of our schools are increasingly fluid – we live in the Armstrong attendance area (my son is a 2013 graduate) and neighbors attend Cooper for the IB program. Certainly there are others that live in the Cooper boundaries but attend Armstrong. Each year brings additional blurring of these lines, and cities throughout the district have strong supporters of both schools.
Among my friends is a Cooper teacher that is a coach at Armstrong. I know that he loves both schools and considers himself an employee of the District, not an individual school.
I believe these are all important and welcome trends in our school district. Promoting collaboration and finding ways to bring people together are vitally important for the health of the school system.
A decision to merge these programs ignores, rather than embraces this natural and welcome co-operation between all residents of the area.
I encourage you to contact the School Board and encourage them to make a decision that respects both high schools and unites all members of the District 281. They can be reached at School_Board@Rdale.org.