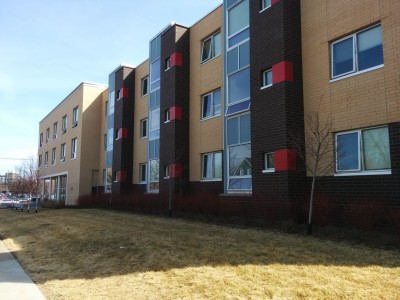 On a sunny Thursday morning in early April – that one day the sun was out, before it snowed again and then again – I drove up to a quiet neighborhood in South Minneapolis. On the corner a well-kept three story apartment building stood among the single family homes on the rest of the block.
I met Mayor Murphy on the sidewalk just outside the building and, after being buzzed through the security door, we went up half flight of stairs. There we were greeted by a "waterfall wall" and a "Good Morning" from the front desk staff person.
So far, so good. Our first experience of Clare Midtown was a pretty good one.
Background
Many months ago, the owner of the long vacant property on the corner of 36th and France Avenue approached the city with a plan – work with a non-profit organization that provides affordable housing for men and women living with HIV/AIDS.
There are many, many steps to any development and this was the first.
Since this is private property there are many legal rights attached to land and the owner has the ability to do just about anything they want with the land, within the limits of Robbinsdale's zoning code.
City staff worked through questions about zoning and what, if any, conditions would be necessary for the project to move forward.
They moved forward with the initial designs and plans, while also working on financing for the project. The final designs have yet to be submitted, but the City Council has seen the preliminary plans.
The final plans are scheduled to go before the city's Planning Commission for a public hearing on May 15th.
If they approve the project, it would move to the City Council in June (likely June 4th).
Clare Housing
Clare Housing is now the owner and developer of the land. Their history dates back over 25 years, providing stable, supportive and affordable housing for those living with HIV/AIDS. They began in a single home with a mission of providing dignity and compassion in end of life care. Over the years advancement in medicine has transformed a certain terminal diagnosis into a condition that is far more chronic and manageable.
Clare Housing's mission has followed those changes and now includes facilities that provide long term homes for residents.
The demand for housing of this type is strong – over 200 people on the Clare waiting list alone.
They have three separate programs – Community Based Care Homes, a Scattered Site Affordable Housing program and Permanent Supportive Housing.
The proposal for Robbinsdale is a Supportive Housing building. The preliminary plans indicate a three story apartment building, with 36 efficiency apartments.
They have two similar buildings already – Clare Apartments and Clare Midtown.
They both offer independent living, with supportive services. There is front desk staff 24 hours a day/7 days a week. Nursing care, medication administration and other services are also available on site.
The Residents
Most Clare Housing residents have struggled with a stable, safe place to live for many years. They come from a wide variety of places. Nursing homes, family member's homes (and couches) and even some homeless shelters.
Their stories are as unique as they are.
One woman became seriously ill shortly after a divorce, lost her job and then her home to foreclosure. And then another blow – a boyfriend she had been seeing didn't inform her he had HIV. After being infected she went from a motel to a nursing home before being accepted into the Clare Housing program.
Because of an unstable housing situation, many residents have struggled with proper medical care.
The one thing they seem to have in common is finding a true home of their own with Clare Housing, and with it the safety and stability they need to be healthier and happy.
Our Visit
As part of the development plan, Clare Housing purchased a duplex next door to the corner lot to allow for some additional space. They needed approval from the planning commission and the Council to change zoning for the home to match the corner lot. As with all potential zoning changes, notice was sent to neighbors in the affected area of a public hearing regarding the change. Both the Planning Commission and the Council heard from a few neighbors. Their concerns included parking, potential for crime and increased foot and vehicle traffic in the area.
Representatives from Clare Housing provided details and statistics they had available from their existing buildings. They stated that emergency vehicle calls were similar to any apartment building. Parking needs are very limited as most residents don't own vehicles. They assured us that while there were initial concerns, their neighbors considered them an asset to the area.
While we had no reason to doubt them, we all thought it would be a good idea to check things out for ourselves, which led to our visit.
At the front desk, we met a staff member who led us to their Community Room. Waiting for us were Chuck Peterson, the Executive Director of Clare Housing; current and former board members; Michele Boyer, director of programming; Elisabeth Loeffler, the Development and Communications Director; and a Clare Housing supporter who happened to be a Robbinsdale resident.
After introductions, they happily answered our questions.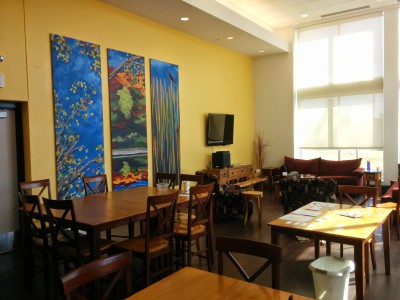 Do you ever need to evict residents? Rarely. If there are problems from either side, resident or Clare Housing, they work out a plan to end the lease.
How can residents afford to live here? Many are eligible for various government programs for affordable housing, as well as assistance from Clare Housing.
Do residents need to check in and out? No, this is independent living and residents are free to live their lives. Staff is available to support residents if they want or need it.
Besides the locked front door, what other security measures are in place? The building is just like a modern apartment building with security doors and cameras to protect the residents, building and neighborhood.
Like most of Minneapolis, parking is pretty limited here. How does that work for the residents and neighbors? Works fine for us, as most of our residents don't have cars.
Tour
After our Q and A session, we got a tour of the building and a look at an empty apartment.
In the back yard, just outside the Community Room, was a patio and garden area. It's a great area that residents use for relaxing, grilling and just hanging out. They explained that there is a similar area, but smaller due to space constraints, in the Robbinsdale plan.
We rode the elevator up to the third floor and, as the door opened, we all had to fight the urge to follow the smell of bacon from across the hall. The joys (and trials) of apartment living.
The room we saw was a typical efficiency apartment. Kitchen on the left with a fridge, sink and stove. Bathroom across from there, a nice sized closet, and then the bedroom/living area. Because some residents move in with nothing, a simple bed and a few pieces of furniture are provided.
| Kitchen | Bedroom |
| --- | --- |
| | |
Since it was empty, waiting for a new resident to move in, it felt a little cold and plain. They told us of the resident's excitement as over time those personal touches that turn an apartment into a home are added.
We finished our tour back downstairs at the front desk and support staff area.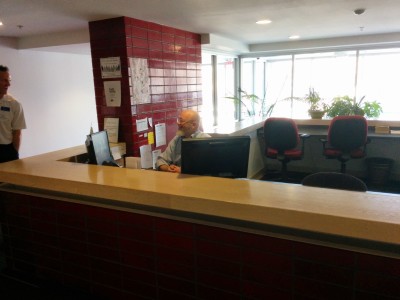 Everything we saw – the landscaping, the community room, the staff, the common areas and hallways – was fantastic.
Council Member Bill Blonigan toured Clare Apartments a few weeks earlier, and at a Council work session reported that facility was in great shape as well.
I spent a little time in the neighborhood before heading for home. The building fit in well with the rest of the neighborhood. I spoke to a couple of neighbors, and left excited about the potential of a great addition to Robbinsdale.
The Next Steps
The project remains only a possible development in Robbinsdale. There will be a public hearing at the Planning Commission meeting on May 15th at 7:00pm. If the plans are approved then, the City Council is the next step. That meeting will likely be June 4th at 7:00pm.
As with any public project, questions and concerns can be brought to those meetings, the City Manager Marcia Glick or anyone on the council.
I highly encourage everyone, whether interested, intrigued or concerned, to tour one of the supportive housing buildings. Clare Housing offers tours monthly, The next tour is June 11th from 8:00 to 9:00 am, in South Minneapolis at Clare Midtown.
If there is enough interest Clare Housing may hold an introduction meeting here in Robbinsdale.
The Upside
If the project moves forward, it will fill a corner empty since 2005, and bring much needed development to a key area. The estimated investment in Robbinsdale is 2.6 million dollars.
And with a little luck, it will jump start further redevelopment in the area.