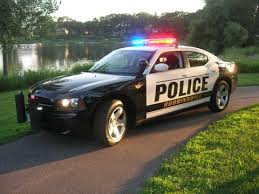 As members of the city council, we get lots of email – questions, complaints and even the occasional thank you. For me it's part of the fun of serving Robbinsdale. It's great to be able to help people through a city process, explain how and why a decision was made the way it was or just apologize and help fix it if the city dropped the ball.
We received an email Thursday morning, and the timing was especially interesting.
Dear Council Members,
I received a speeding ticket at 8 a.m. this morning NB HWY 100 at France. Sure I was supposedly going 73 in a 60 so I was in the wrong. But I don't understanding why your police officers don't have anything better to do than harass the good people of Minnesota on a State patrolled highway during rush hour. I am not a criminal. I am an upstanding citizen that is trying to manage many stresses in my life such as an extremely ill father in the hospital. I am just someone trying to manage everything in my life without adding the stress of being late to work. If Robbinsdale doesn't have a better use for their police officers than harassing the good people of Minnesota during rush hour on a State patrolled highway, maybe Robbinsdale has too many police officers. I implore you to think about this, and talk to your City Manager and Police Chief about this issue. Thank you.
Truly,
Joe NotFromBirdtown
Leaving aside the somewhat odd definition of harassment, "don't the police have anything better to do" is a relatively frequent comment I have heard. Of course, I have heard the other side too – "why don't the police enforce traffic violations more?"
So what's the right answer? That's a tough question, but as I said the timing was interesting. Twelve hours earlier, the Robbinsdale Crime Prevention association heard from Chief of Police Steve Smith. He spoke about the crime statistics for the year, how they are trending and how we rank among our neighboring cities and some similarly sized metro cities.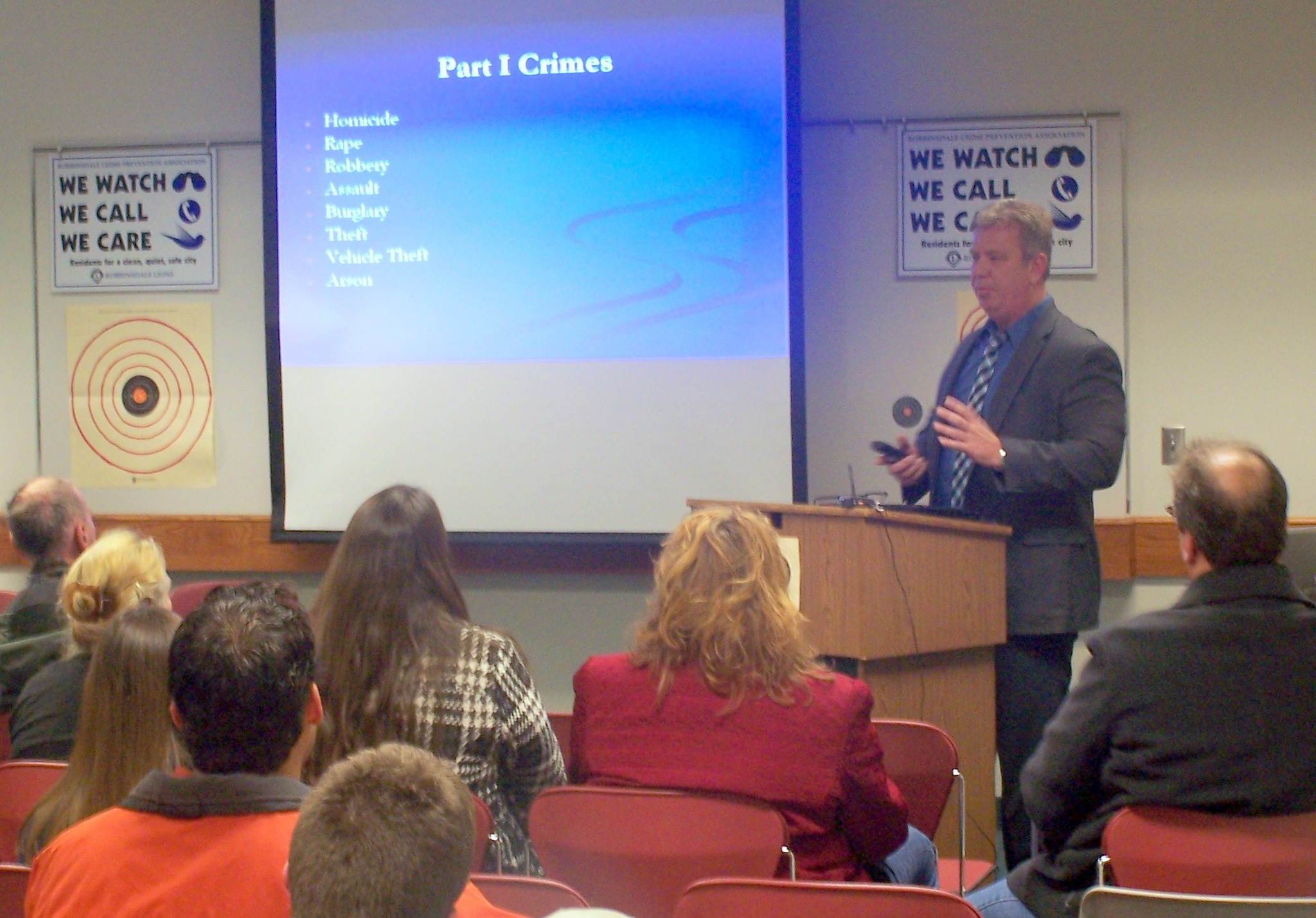 The news for Robbinsdale is fantastic – using stats from January through October of both years, "Part 1" crimes – serious offenses, including homicide, rape, robbery, theft, assault, arson – are down 29% from 2012!
"Part 2" crimes (DUI, drug offenses, vandalism, fraud, forgery) are also trending down, with a 5% decrease.
Not only that, but our crime rate is lower (far lower in some cases) than any of our neighboring cities – Crystal, New Hope, Golden Valley, Brooklyn Center and Minneapolis. We also come out on top when measured against similar sized cities in the metro area – Hopkins, Anoka, Columbia Heights.
The long term stats look great too, with a nearly steady decline year over year for the past five years.
What does this have to do with a traffic ticket?
Well, maybe nothing. But maybe a lot. It is very tough to be able to directly correlate specific police tactics or actions to crime statistics. There are so many variables to factor in, it becomes nearly impossible.
But what studies have shown is that a number of tactics used together does appear to have an impact. Two factors are to address the "little things" and have a noticeable police presence in your community. It was that theory that led the Chief to request an additional officer in 2013 to focus on traffic offences. The city council agreed and budgeted for one additional officer. While this officer is primarily working on traffic, he is available for other duties if the need arises.
Traffic is a little thing that, when actively handled, raises awareness of the police presence in Robbinsdale. Seeing police lights flashing and a car pulled over sends a message to everyone passing by, not to mention keeping our roads safer. Traffic stops result in numerous arrests for outstanding warrants every year as well, which also keeps our city safer.
Other Factors
Chief Smith mentioned some other factors that have likely contributed to the decrease.
Community involvement is probably the single most important factor in reducing crime in a neighborhood and city. Residents making themselves small targets (lock doors and windows, valuables not in sight, good outside lighting) and reporting suspicious activity keep crimes of opportunity to a minimum.
Formal and Informal organizations help spread the word and engage residents as well. The Robbinsdale Crime Prevention Association has seen a huge jump in participation (and signs around town) the last couple years, National Night Out parties are always at record levels and the Birdtown Club Facebook page have all contributed to keep people educated and engaged.
Two cutting edge ordinances have helped the city with nuisance properties and behavior. The Nuisance ordinance and Crime Free/Drug Free Ordinance were enacted a couple years ago and provide police another tool to deal with habitual offenders, including eviction from rental property when certain thresholds are exceeded. In that time, there have been dozens of evictions and a reduction in nuisance calls. These ordinances have been so successful that cities from around the state and country have contacted Robbinsdale to inquire about enacting them.
There are many other factors that likely have an impact as well, and we really don't know how much any one of these things may contribute to the decrease. But none of them can hurt the effort, and all help increase the partnership between the police and residents, which does have a proven, positive effect on lowering crime rates.
One thing is for sure, this is yet another reason to be proud of our city – from the residents to the police we can all take pride in a job well done.
As for our emailing friend, I told him that I (unfortunately) know how frustrating a ticket can be, but that traffic enforcement is an important part of the police department's long term strategy, and the Council wholeheartedly supports their efforts.
Whether it is a State or county road within the boundaries of Robbinsdale, a city street, public or private property we simply ask that you do not break the law in Robbinsdale.