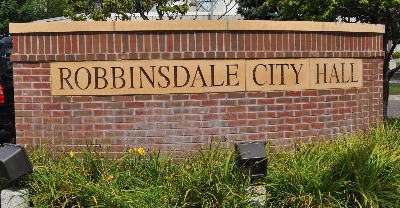 My Tuesday nights are reserved for City Council and Robbinsdale Economic Development Authority meetings – and this one was packed full of new info. We had a REDA meeting, a Council meeting and a council work session. Here's a quick low down on a number of topics.
Annual Forestry Report
James Burke is Robbinsdale forester and his services are split between Robbinsdale and Crystal, one of the many ways we partner with other cities. He provided a great overview of the health of the cities trees and the activity that was undertaken last year. A couple highlights:
Robbinsdale has a good mix of trees, which leaves us less prone to large losses due to disease
Emerald Ash Borer has not hit the city yet, but he has been proactively working in an effort to avoid the pest. Distressed Ash trees have been removed and others continue to be monitored.
Tree trimming is done in a 7-8 year rotation, and they are currently working just south of the hospital in beautiful and friendly Ward 4.
Arbor Day is set for 10:00 am April 20th at Sunset Park (east side of Crystal Lake). The newly formed Lower Twin Lake Association is also having a clean up event that day at the boat launch just off Hwy 100. Watch for more info closer to Arbor Day.
Open To Business
Robbinsdale residents can get free, confidential assistance when starting or expanding a business. [Open To Business] (http://www.opentobusinessmn.org/) is a joint effort from Robbinsdale, Hennepin County and the [Metropolitan Consortium of Community Developers] (http://www.mccdmn.org/).
2012 was the first year of this program and it was a huge success, advising 10 separate individuals or companies and instrumental in helping Wunderkammer, a gift shop specializing in local artists, open in downtown Robbinsdale. (If you haven't stopped in yet, make a point to get there. It's fantastic! Right across from Walgreens in Broadway Court apartment building).
They also help facilitate loans and last year they helped raise $304,000 in loans which leveraged an additional $1,100,000 in bank financing for Robbinsdale businesses.
Throughout the metro area, they advised over 250 businesses helping raise $1.6 million, that leveraged an additional $8 million.
Robbinsdale Representative to Bottineau Transtway PAC
Council member George Selman was named to the Bottineau Transitway Policy Advisory Committee. George has been involved with this effort for over 10 years on the Community Advisory Committee and is the perfect person to represent Robbinsdale as the trasitway process continues. George was also recently named to the Met Council's Grant Evaluation and Ranking System (GEARS) committee. This group ranks applications to the Met Council for grant requests. Congratulations George!
Earth Hour 2013
The council passed a proclamation of support for Earth Hour 2013, a worldwide event organized by the World Wildlife Fund. Earth Hour participants turn off unnecessary lights for one hour to bring awareness to climate change.
Earth Hour 2013 will be held on March 23, 2013 from 8:30 p.m. to 9:30 p.m.
The city already turns off unnecessary lights in most buildings after closing, and is investigating turning off non-essential exterior lights on March 23rd.
Pavilion Fund Raising
Last year the city formed a task force to investigate adding a pavilion to Lakeview Terrace Park. This was a feature that was recommended when the park was redesigned, but had to be delayed due to budget constraints.
There is a potential major donor, but additional fundraising will be necessary. The council met to discuss a plan moving forward, and we will be working on finalizing it in the next few weeks.
If funds can be raised the pavilion will be large enough to host the city band, large reunions and groups and be a beautiful addition to the park.
Watch for more information soon on this exciting addition to Robbinsdale!
Whew!
That was just the highlights…there was other routine business as well. Bookmark and refer to this post for the next time you think your council member isn't doing anything!